Pact Supply Network Agent
You will gain access to these special karma merchants by training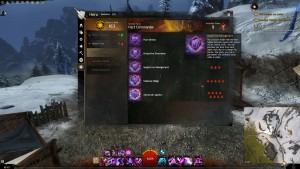 the
third line of the Pact Commander mastery, Supply Line Management.
(Keep note: Heart of Thorns expansion required)
There are six merchants in total, one per region of Tyria.
Their locations change daily, and you may only purchase one item per vendor per day.
Every merchant sells 3 items.
1:

 Torn Page from "Tyrian Pact Survival Handbook" (Rare) for 7,777

.
This item grants a random Rare crafting recipe.
2:

 Pact Scout's Mapping Materials (Masterwork) for 5,250

.
This item grants 200 map bonus reward points for the current map the character is in.
3: Random Recipe (Exotic) costs 25,200

. (This item changes daily)
A random Exotic Recipe that changes daily. 
You can recognize their location on your map by the following icon:

Day
Chat Links
Click button "Copy" to copy all chat links
Monday
[&BA8CAAA=][&BKYBAAA=][&BEwDAAA=][&BIcHAAA=][&BNIEAAA=][&BIMCAAA=]
Tuesday
[&BIMBAAA=][&BBkAAAA=][&BEgAAAA=][&BH8HAAA=][&BKgCAAA=][&BGQCAAA=]
Wednesday
[&BPEBAAA=][&BKYAAAA=][&BMIBAAA=][&BH4HAAA=][&BP0CAAA=][&BDgDAAA=]
Thursday
[&BOcBAAA=][&BIMAAAA=][&BF0AAAA=][&BKsHAAA=][&BO4CAAA=]

[&BF0GAAA=]

Friday
[&BNMAAAA=][&BNUGAAA=][&BMwCAAA=][&BJQHAAA=][&BJsCAAA=][&BHsBAAA=]
Saturday
[&BBABAAA=][&BJIBAAA=][&BLkCAAA=][&BH8HAAA=][&BBEDAAA=]

[&BEICAAA=]

Sunday

[&BCECAAA=][&BC0AAAA=][&BDoBAAA=][&BIkHAAA=][&BO4CAAA=][&BIUCAAA=]
Todays Date is:
Monday, March 25th 2019
When timer is below 8 Hours left, it will still be the previous day locations.
Locations of Pact Supply Network Agents Reset in:
Days: Monday, Tuesday, Wednesday, Thursday, Friday, Saturday, Sunday
| Day | NPC Name | Region | Location Name | Chat Link | Image location |
| --- | --- | --- | --- | --- | --- |
| Monday | Verma Giftrender | Ascalon | Haymal Gore | [&BA8CAAA=] | |
| Monday | Lady Derwena | Kryta | Marshwatch Haven Waypoint | [&BKYBAAA=] | |
| Monday | The Fox | Maguuma Jungle | Lionguard Waystation Waypoint | [&BEwDAAA=] | |
| Monday | Mehem the Traveled | Maguuma Wastes | Restoration Refuge | [&BIcHAAA=] | |
| Monday | Specialist Yana | Ruins of Orr | Rally Waypoint | [&BNIEAAA=] | |
| Monday | Despina Katyn | Shiverpeaks | Ridgerock Camp Waypoint | [&BIMCAAA=] | |
| Tuesday | Verma Giftrender | Ascalon | Temperus Point Waypoint | [&BIMBAAA=] | |
| Tuesday | Lady Derwena | Kryta | Garenhoff | [&BBkAAAA=] | |
| Tuesday | The Fox | Maguuma Jungle | Desider Atum Waypoint | [&BEgAAAA=] | |
| Tuesday | Mehem the Traveled | Maguuma Wastes | Camp Resolve Waypoint | [&BH8HAAA=] | |
| Tuesday | Specialist Yana | Ruins of Orr | Waste Hollows Waypoint | [&BKgCAAA=] | |
| Tuesday | Despina Katyn | Shiverpeaks | Travelen's Waypoint | [&BGQCAAA=] | |
| Wednesday | Verma Giftrender | Ascalon | Ferrusatos Village | [&BPEBAAA=] | |
| Wednesday | Lady Derwena | Kryta | Shieldbluff Waypoint | [&BKYAAAA=] | |
| Wednesday | The Fox | Maguuma Jungle | Swampwatch Post | [&BMIBAAA=] | |
| Wednesday | Mehem the Traveled | Maguuma Wastes | Town of Prosperity | [&BH4HAAA=] | |
| Wednesday | Specialist Yena | Ruins of Orr | Caer Shadowfain | [&BP0CAAA=] | |
| Wednesday | Despina Katyn | Shiverpeaks | Mennerheim | [&BDgDAAA=] | |
| Thursday | Verma Giftrender | Ascalon | Village of Scalecatch Waypoint | [&BOcBAAA=] | |
| Thursday | Lady Derwena | Kryta | Altar Brook Trading Post | [&BIMAAAA=] | |
| Thursday | The Fox | Maguuma Jungle | Wendon Waypoint | [&BF0AAAA=] | |
| Thursday | Mehem the Traveled | Maguuma Wastes | Blue Oasis | [&BKsHAAA=] | |
| Thursday | Specialist Yana | Ruins of Orr | Fort Trinity Waypoint | [&BO4CAAA=] | |
| Thursday | Despina Katyn | Shiverpeaks | Rocklair | [&BF0GAAA=] | |
| Friday | Verma Giftrender | Ascalon | Hawkgates Waypoint | [&BNMAAAA=] | |
| Friday | Lady Derwena | Kryta | Pearl Islet Waypoint | [&BNUGAAA=] | |
| Friday | The Fox | Maguuma Jungle | Bard's Waypoint | [&BMwCAAA=] | |
| Friday | Mehem the Traveled | Maguuma Wastes | Repair Station | [&BJQHAAA=] | |
| Friday | Specialist Yana | Ruins of Orr | Shelter Docks | [&BJsCAAA=] | |
| Friday | Despina Katyn | Shiverpeaks | Dolyak Pass Waypoint | [&BHsBAAA=] | |
| Saturday | Verma Giftrender | Ascalon | Bovarin Estate | [&BBABAAA=] | |
| Saturday | Lady Derwena | Kryta | Vigil Keep Waypoint | [&BJIBAAA=] | |
| Saturday | The Fox | Maguuma Jungle | Gallant's Folly | [&BLkCAAA=] | |
| Saturday | Mehem the Traveled | Maguuma Wastes | Camp Resolve Waypoint | [&BH8HAAA=] | |
| Saturday | Specialist Yana | Ruins of Orr | Augur's Torch | [&BBEDAAA=] | |
| Saturday | Despina Katyn | Shiverpeaks | Balddistead | [&BEICAAA=] | |
| Sunday | Verma Giftrender | Ascalon | Snow Ridge Camp Waypoint | [&BCECAAA=] | |
| Sunday | Lady Derwena | Kryta | Mudflat Camp | [&BC0AAAA=] | |
| Sunday | The Fox | Maguuma Jungle | Mabon Waypoint | [&BDoBAAA=] | |
| Sunday | Mehem the Traveled | Maguuma Wastes | Azarr's Arbor | [&BIkHAAA=] | |
| Sunday | Specialist Yana | Ruins of Orr | Fort Trinity Waypoint | [&BO4CAAA=] | |
| Sunday | Despina Katyn | Shiverpeaks | Blue Ice Shining Waypoint | [&BIUCAAA=] | |