Category Archives:
Guild Wars 2 Gem Store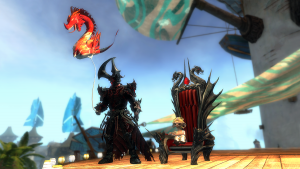 Free Anniversary Gifts
Thank you for six years of support! If you've upgraded your account with Guild Wars 2: Path of Fire™ or Guild Wars 2: Heart of Thorns™—or you've purchased the core game in the past—you'll find some free gifts waiting for you in the Gem Store. The Customer Appreciation Package contains a Black Lion Chest and Black Lion Chest Key. Use the Novelty Selection Box to get a head start on filling up the brand-new novelties tab in your wardrobe.