Monthly Archives:
January 2018
General
Reports of undead attacking travelers near major cities have increased.
Fractals
General
Agony resistance now has a unique icon in the Hero panel.
Shattered Observatory
Increased the window of time to kill the temporal anomalies by 3 seconds in challenge mode of the Arkk encounter.
Twilight Oasis
Defeated and downed players will now rally after each phase in the final boss fight.
The two Awakened abominations will now assist players in the beginning.
Initial Awakened allies have had their damage and toughness greatly increased.
Removed the knockdown effect from Crushing Charge.
Greatly reduced the damage inflicted by Crushing Charge.
Greatly reduced the initial impact damage inflicted by Charged Shot.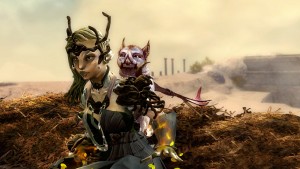 Customer Appreciation Package
Log in today to pick up a free Customer Appreciation Package from the Gem Store! This package is available to players who have purchased Guild Wars 2, Guild Wars 2: Heart of Thorns™, or Guild Wars 2: Path of Fire™, and contains one Black Lion Chest Key and one Black Lion Chest.