The Guild Wars 2: Heart of Thorns Economy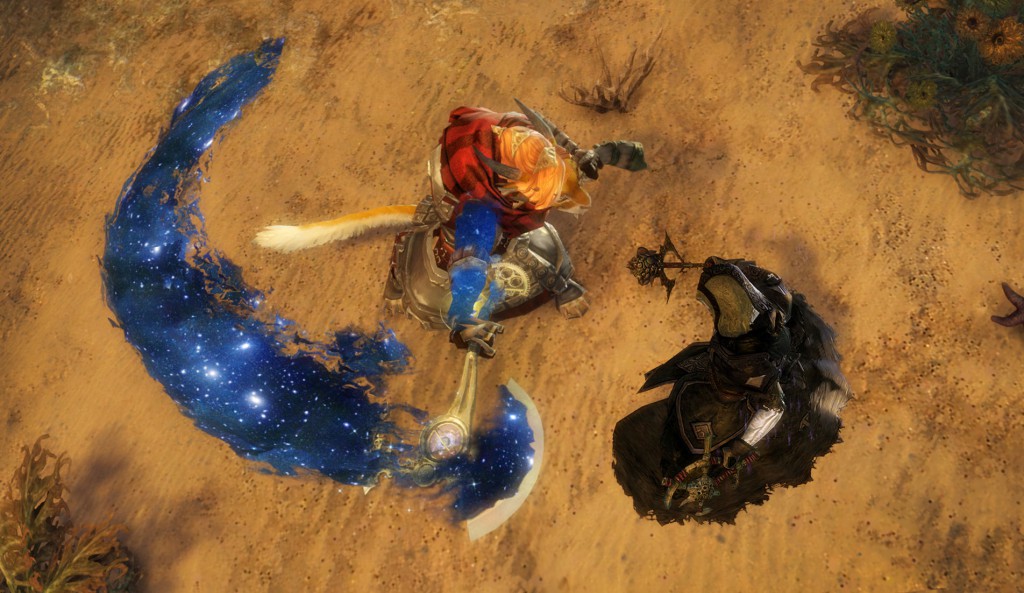 Hello, everyone, I'm here to briefly speak on the economic changes coming inGuild Wars 2: Heart of Thorns™. We've announced a lot of new content and systems, and most of them affect the balance of the game in one way or another. The game is about to change a great deal, and that means the economy is going to be impacted.
Instability Is Coming…Again
I want to be up front: scarcity is important. For most materials in the game, we've reached a nice equilibrium, and the change of systems is really going to throw a wrench into that. Expect instability after launch in multiple major markets. We've made a lot of large changes, and we have a lot of new systems all interacting with our players for the first time. We spent a lot of time modeling and using our past experience to create the new economic changes, so we plan to be in a good place after the dust settles. Instead of promising that everything will quickly and automatically return to equilibrium at a state we think is healthy, I want to promise that we're paying very close attention and will be looking out for any behavior that we think needs to be addressed. There are too many changes happening all at once to be absolutely sure everything will work perfectly, but a lot of our current major issues are being addressed. Furthermore, we'll watch very closely and make rapid adjustments to bring everything back to the stable state we're looking for. Let's touch briefly on some of the major changes.
Precursor and Legendary Journeys
I'm sure Game Designer Linsey Murdock has interesting information about how precursors and legendary journeys will work along with the lore and quests, but I'm here to talk about the economics—primarily, the amount of materials it takes to make a precursor. Anyone who has crafted enough rare items to understand the pattern of precursor creation has a good idea of the quantity of materials involved. In our new system, the number is no longer variable, but it's still immense. Precursor crafting maintains the scarcity of a large quantity of important items in the economy, and we made efforts to partially preserve that relationship.
Salvaging Changes
Despite keeping a heavy sink of materials in the new endgame weapon journeys, the changes were nowhere close to balancing the current numbers . To help get us closer to where we want to be, we'll simultaneously roll out changes to the salvaging of some materials. Some of these changes will reduce output to help us maintain scarcity, and some will rebalance heavily input materials with more rare materials to help even out some of the variation of scarcity we currently have.
Dungeon Rewards
Over the last couple of years, dungeons have been a major part of the game's economy; between unique armor and liquid rewards, they're often farmed. In the expansion, we'll move away from this paradigm. As the game progressed, we shifted focus from dungeons to fractals and raids, and we firmly believe that fractals and raids are the content that we want to continue to support. As a part of that process, we'll shift some rewards away from dungeons and into other pieces of content. While dungeons will remain cool experiences that'll reward players with unique items, their liquid rewards will be reduced and other content will become more rewarding. The shift in rewards is a direct representation of our focus on raids and fractals and our commitment to make them the best they can be.